Epic Christmas
With Christmas around the corner what better way is there to get into the holiday mood than with a epic Christmas commercial from "3″.
The pitch was to create something in the spirit of the season but on a larger and more grand scale. Building on earlier films with our robot we poured tons of snow over the world and introduced a whole army of mischievous smart-phone packages marching up the stairs under the sparkling northern lights .
Working with 3 is always a great treat but creating a Christmas campaign lets you make everything more vibrant and more over the top than you would normally get away with.
Director Ulf Lundgren
Bringing "Epic Christmas" to life introduced a whole bunch of fun challenges ranging from cloth, fur, mat paintings and snow to handling a cast of thousands.
We always try to add something new and challenging to every project, this time we got to develop a bunch of new crowd tools that will let us tackle even bigger projects in the future.
Head of RnD Björn Lundgren
Project Details
Production year: 2011
Client: Storåkers
Agency: Colony
Production Company: Lost Liner Productions
Films: 2
Number of shots: 14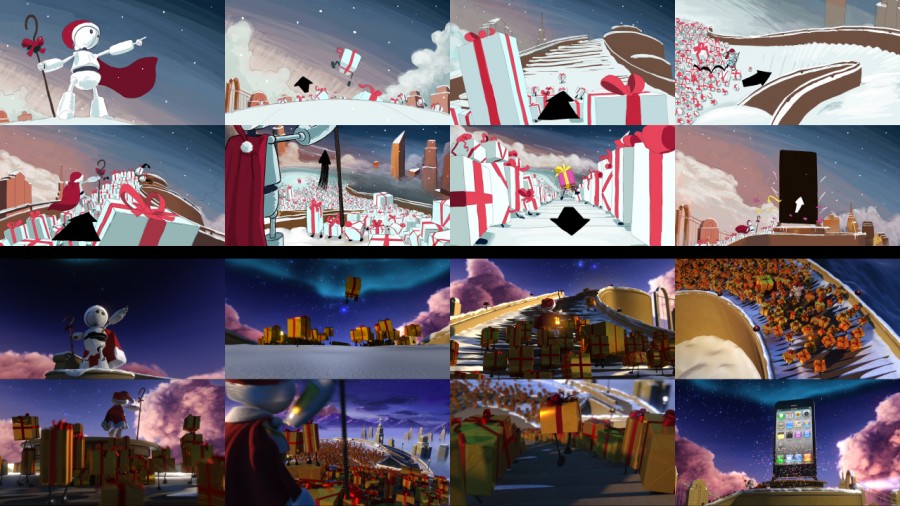 Project Credits
Storåkers
Project manager: Linda Rundqvist
Copywriter: Björn Carlberg
Art Director: Henric Almquist
Colony
Agency producer: Jenny Sernholt
Sound design and mix: Quint Starkie
Lost Liner Productions
Director: Ulf Lundgren
Creative producer: Niklas Gunnarsson
Coordinator: Erika Reilly
Design: Pär Andersson
Modelling: Pär Andersson
Animation: Johan Sonestedt, Jonas Dahlbeck
Rigging: Hannes Nordin
Animation: Hannes Nordin
TD: Martin Öhgren, Martin Törnestedt, Oskar Wahlberg
RnD: Björn Lundgren
Comp: Martin Öhgren